Emily and Elliot - Platelet Recipients
Platelet Donation
Small but mighty, platelets are a precious, lifesaving resource. Learn more about saving lives through platelet donation.
What's the platelet donation process? How frequently can I donate platelets? Find these answers and everything you need to know about volunteering to donate platelets below.
What is platelet donation?
Platelet donations are a special type of blood donation. Our blood is made up of different parts, also called components: red cells, plasma, and platelets. Of the three, platelets are considered a precious resource – not only do they make up a small fraction of our blood, but platelets only last for 5-7 days outside of the body. That means when a donor gets up after their donation, the platelets they leave behind will be used by a patient in a local hospital within the week.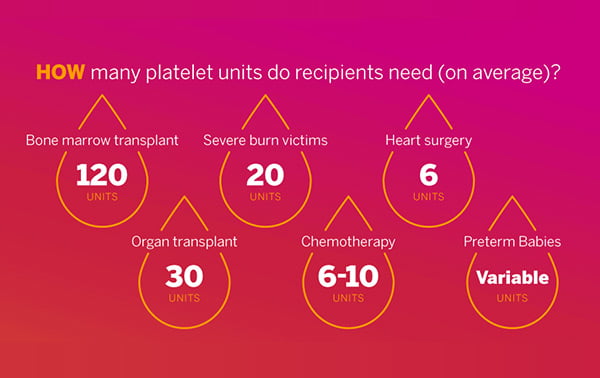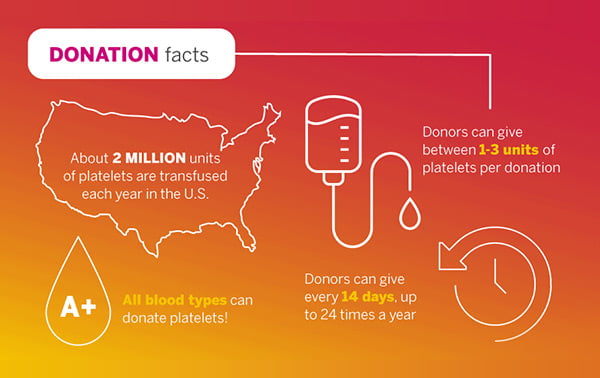 "Thank you so much for donating, and if you haven't donated yet, maybe think about donating. Because people like me really need it." – Ian O'Keefe
Platelets are a component of blood that promotes clotting. They are named after their plate-like shape, and when activated, platelets develop sticky spikes that help them cluster together to seal off cuts and other wounds. Platelets are body's natural bandages!
Platelets are incredibly important in a wide range of treatments for patients of all kinds, primarily warriors fighting cancer, premature babies, trauma victims, and those receiving organ or bone marrow transplants.
Platelets have a short lifespan and must be transfused within 5-7 days of donation! There is always a need for donors since these cells cannot be stockpiled.
Help save lives in your community. Become a volunteer platelet donor today!
Beacon Club Platelets
Earn exclusive rewards, and show your platelet pride through the Beacon Club Platelets.