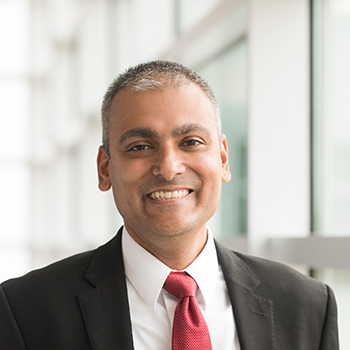 Gitesh has a wealth of experience in sales and marketing. He has spent the last 12 years in various progressive leadership roles with Baxter/Baxalta/Shire, where he led the U.S. immunology launch team and helped bring new, innovative products to market. Gitesh then transitioned into sales and sales leadership roles, coaching a new team and driving growth. Following this, Gitesh moved abroad and as head of immunology business, was responsible for P&L in the U.K. and Ireland. His most recent appointment was as international franchise lead for hematology at Shire, where he coached country leadership teams on local implementation of global strategies.
Gitesh leads Versiti's efforts to develop and communicate a clear and consistent enterprise value proposition and helps foster the organization's journey to be more customer centric. He focuses and aligns our efforts to deliver outstanding customer and donor experience across Versiti's footprint and helps build long-term connections in the communities we serve. He is based in Milwaukee at Versiti headquarters.
Gitesh earned a Bachelor of Science in chemical engineering from the University of Illinois Urbana-Champaign, and a Master of Business Administration from University of Michigan Ross School of Business. Though Gitesh has lived in four countries and four states, he remains committed to his Michigan Wolverines, especially since Jim Harbaugh returned as coach. Gitesh and his wife Neha have three boys – Aarav, Ayan and Aayush.